Bill of Sale Invoice Template
A bill of sale invoice is a type of receipt that is mainly used to document the sale and purchase of a vehicle but can also be used for any other personal property or products sold.
Make a Free Invoice Now
What is a Bill of Sale?
A bill of sale is a record of a transaction that occurs between a buyer and a seller in relation to a piece of property, most commonly a motor vehicle. The document does not transfer the title but rather shows proof that a transaction took place. Laws in some states require the document to be signed and notarized before it can serve as a legal receipt.
Cars/Motorcycles
The following basic information is required in bill of sale invoices that document the transfer of ownership of a vehicle:
Odometer reading
Vehicle Identification Number (VIN)
Names, addresses, and signatures of the buyer and seller
The title and registration should be attached to the bill of sale before it is signed and notarized.
Boats
The following information should be included when buying or selling a boat (watercraft):
Make and year of the vessel
Make and year of the boat's engine
Registration/hull ID number
Signature of buyer and seller
Date signed
Difference Between Invoice and Bill of Sale
An invoice is easily confused with a bill of sale, but while they can be the same thing, they can also refer to different documents. An invoice is a document that requests payment for a product or service and includes information about the product and service rendered, its unit price, and a date by which payment is expected. Following the issuance of an invoice, clients are expected to pay for the products and/or services received. A bill of sale, on the other hand, is usually used to refer to a form that records the details of a transaction that already occurred.
The bill of sale is essentially a statement of what was transferred, when, and between whom.
However, the term bill of sale invoice is also an accepted way to refer more generally to a document that records a transaction.
How is a Bill of Sale Invoice Used?
A bill of sale is typically used after payment for a piece of property, such as a car or boat, is received by the person selling it. Bill of sale papers can be helpful for the seller because they record the transaction of money for accounting or reporting purposes, but can also help someone who is purchasing the property and then registering it.
Is a Bill of Sale Invoice Required?
In some states, the Department of Motor Vehicles requires a completed, signed, and notarized bill of sale before the vehicle can be registered. It's a good idea to call the local DMV to determine whether this is the case in your state before selling an asset. Even if local statutes don't require a bill of sale, it's a good idea to make one in order to build a reliable paper trail.
How to Write a Bill of Sale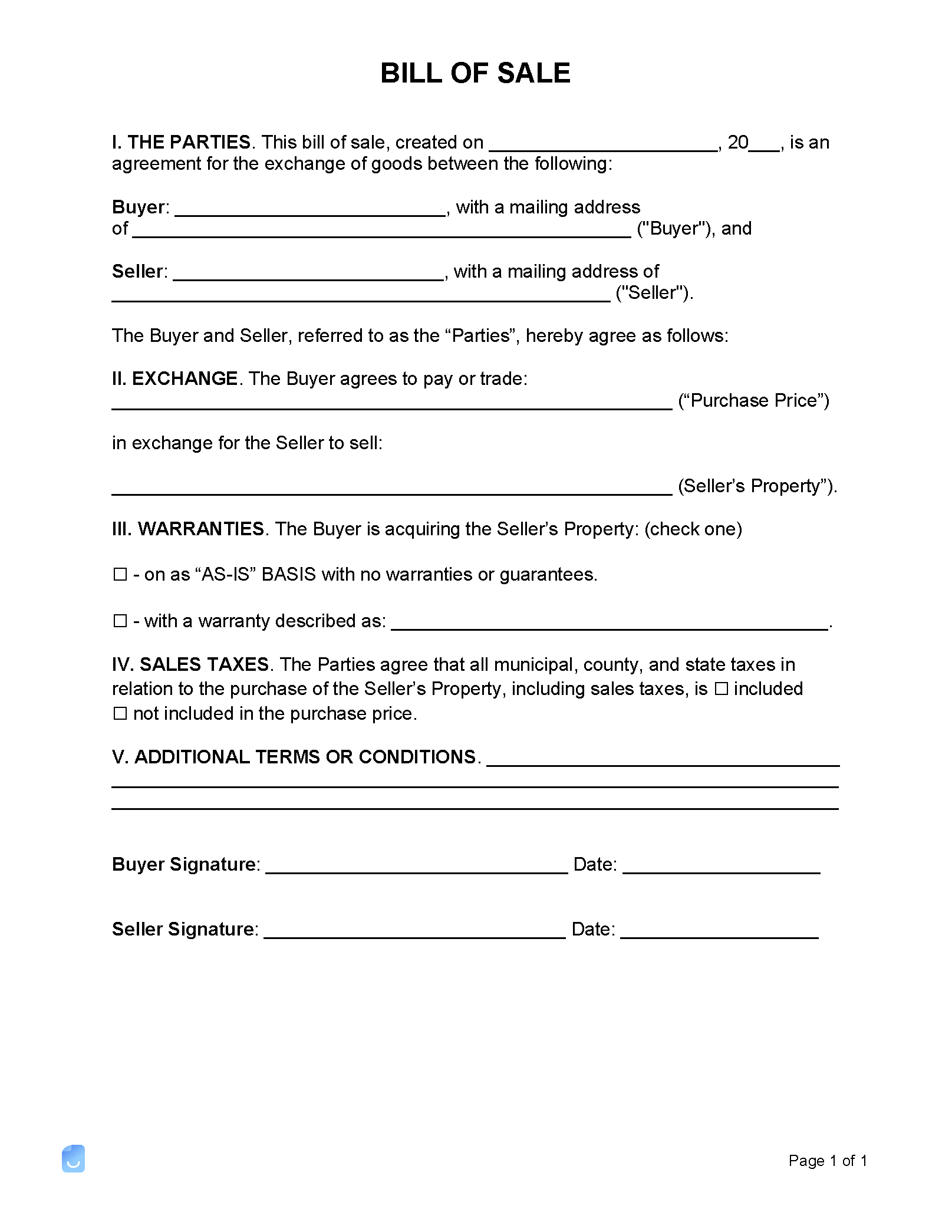 Download: Adobe PDF, MS Word A bill of sale should be written after both parties have made a verbal agreement and are ready to make a transaction. The buyer will be required to keep an original copy of the bill of sale after it has been signed and the transaction is complete. Many states require a bill of sale when registering, for example, a vehicle or boat.
Location of Sale
It's important to write the bill of sale in accordance with the rules of the state in which the item is being bought/sold. Because each state has unique laws regarding the use of a bill of sale in a transaction, the location (county, city, and state) should be clearly stated. Sales tax should not be included in the sale as it will be paid by the buyer when they register the vehicle in their state.
The Parties
The legal names and mailing addresses of the buyer and seller should be clearly stated in the bill of sale. This is to help ensure that both parties are who they say they are and it also creates a point of contact if problems arise following the transaction.
Item Description
Any legal descriptions of the item being sold, such as the make and model of a car, must be entered into the bill of sale. ID, VIN, registration, and all identifying descriptions need to be included as well. The invoice should also specify the quantity of the units being transferred.
Payment
Finally, once all the information is entered into the bill of sale, all that remains is the transfer of money and signatures to finalize the sale. A vehicle can transfer via a cash payment, a trade-in, or by an act of giving (gift). Whichever payment method is used, as well as the specific cost of the transferred property, should be stated in the bill of sale.