Direct Deposit Invoice Template
A direct deposit invoice is a statement or order that records payment for a product or service via ACH, or automatic clearing house. Automatic clearing house is an online system that facilitates the direct deposit of payments to bank accounts.
Make a Free Invoice Now
How to Use Direct Deposit Invoices to Streamline Your Business
A direct deposit is a way of depositing a check into a person's bank account without having to physically enter a bank to complete the transfer. A direct deposit electronically transfers funds into another person's bank account. Large companies often use direct deposit to simplify and streamline the process of paying everyone on the payroll on time. The system is also used by the U.S. Treasury to deposit social security checks into senior citizens' accounts. According to a study conducted by the Association for Financial Professionals, 43% of companies offer direct deposit as a payment option for employees. Almost all very large companies choose direct deposit as a means of paying their employees.
A Pew Research Center study found that more than half of Americans use direct deposit in some capacity.
A direct deposit invoice allows businesses to easily and effortlessly collect payments from customers. They are typically used by businesses that provide goods or services on a recurring basis.
The Benefits of Direct Deposit
Perhaps the most obvious benefit of direct deposit is its speed. In contrast to the process of sending a paper check by mail and waiting for the recipient to cash it, direct deposit facilitates the direct, immediate, and online transfer of money. For businesses that deal with a large volume of transactions, direct deposit can save a lot of time. Direct deposits also offer heightened security. Whereas a check can get lost in the mail or stolen out of a mailbox, a direct deposit payment is guaranteed to reach its intended audience.
How Long Does Direct Deposit Take?
Once transferred, a direct deposit payment appears immediately within the receiver's account. Depending on the bank's processing speeds and online system capacity, the payment might be pending for one (1) or two (2) days. A direct deposit doesn't normally take longer than that to clear.
How to Set up Direct Deposit
The process can be set up through the signing and swapping of several forms. In order to set up direct deposits, a direct deposit authorization form should accompany a direct deposit invoice and be signed by the billable party. Employers typically offer direct deposit as a payment option when onboarding new employees, and it is always possible to ask for a form if the option was not presented. Some companies, such as Quickbooks, specialize in setting up businesses with the proper systems for offering employees the option to select direct deposit.
Are There Risks of Direct Deposit?
The primary risk of relying on direct deposit is related to cybersecurity. However, major banking institutions have implemented security measures to mitigate this risk. Another risk is reversing a mistaken payment. Unlike a check, which can be stopped, direct deposits clear quickly and are thus more difficult to reverse.
Direct Deposit Authorization
A direct deposit authorization form acts as a statement of someone's consent for someone else to direct deposit payments into a bank account.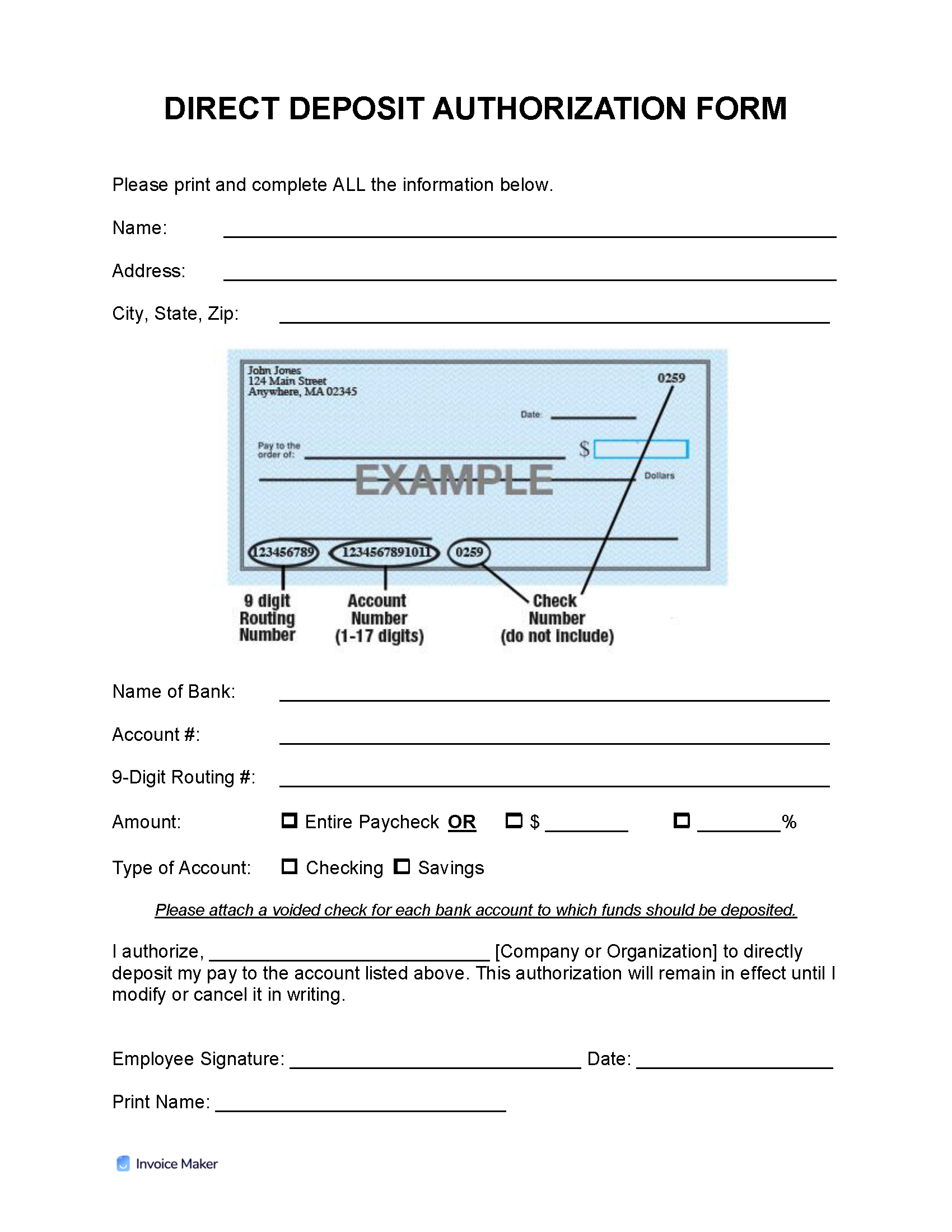 Download:
Requirements
A direct deposit authorization form typically includes the following:
Account holder's name;
Bank name;

Account number;
Routing number;

Signature; and
Other details, such as Swift (BIC) or IBAN, if required.
Helpful Tips
Banking information (account and routing number) should always be copied from a bank check and not from a deposit slip in order to ensure accuracy.
If making a direct deposit to a savings account, double-check with the bank to verify the correct account and routing number as these can differ from checking accounts.
Using a Direct Deposit Invoice
Direct deposit invoices include the service provider or company's bank account information, specifically a routing number and account number, as well as the customer's name and account information. The invoice should also include basic information about the transaction, including the date, the amount, a description of what the payment is for, and the name and address of the person being paid. Businesses, or whoever is paying via direct deposit, can process direct deposit invoices manually or automatically. Invoices can be processed electronically or by paper check using software that generates invoices at intervals. Typically they are sent to customers via email, mail, or fax. Invoicing software can make the process of designing and distributing invoices quick and easy.