A food invoice allows restaurants, delivery services, and businesses that sell food to bill clients/customers after orders have been delivered. Some businesses have fixed and recurring agreements with food suppliers who produce regular invoices that itemize each type of food ordered, the quantity of the food, the location of the purchase, the total amount of the order, and any applicable discounts.
Make a Free Invoice Now
Helpful Tip: Use a Catering Service Invoice when needing a method to request and document payment for making and preparing foods for large events such as weddings, birthday parties, and corporate functions.
 A Guide to Food Invoices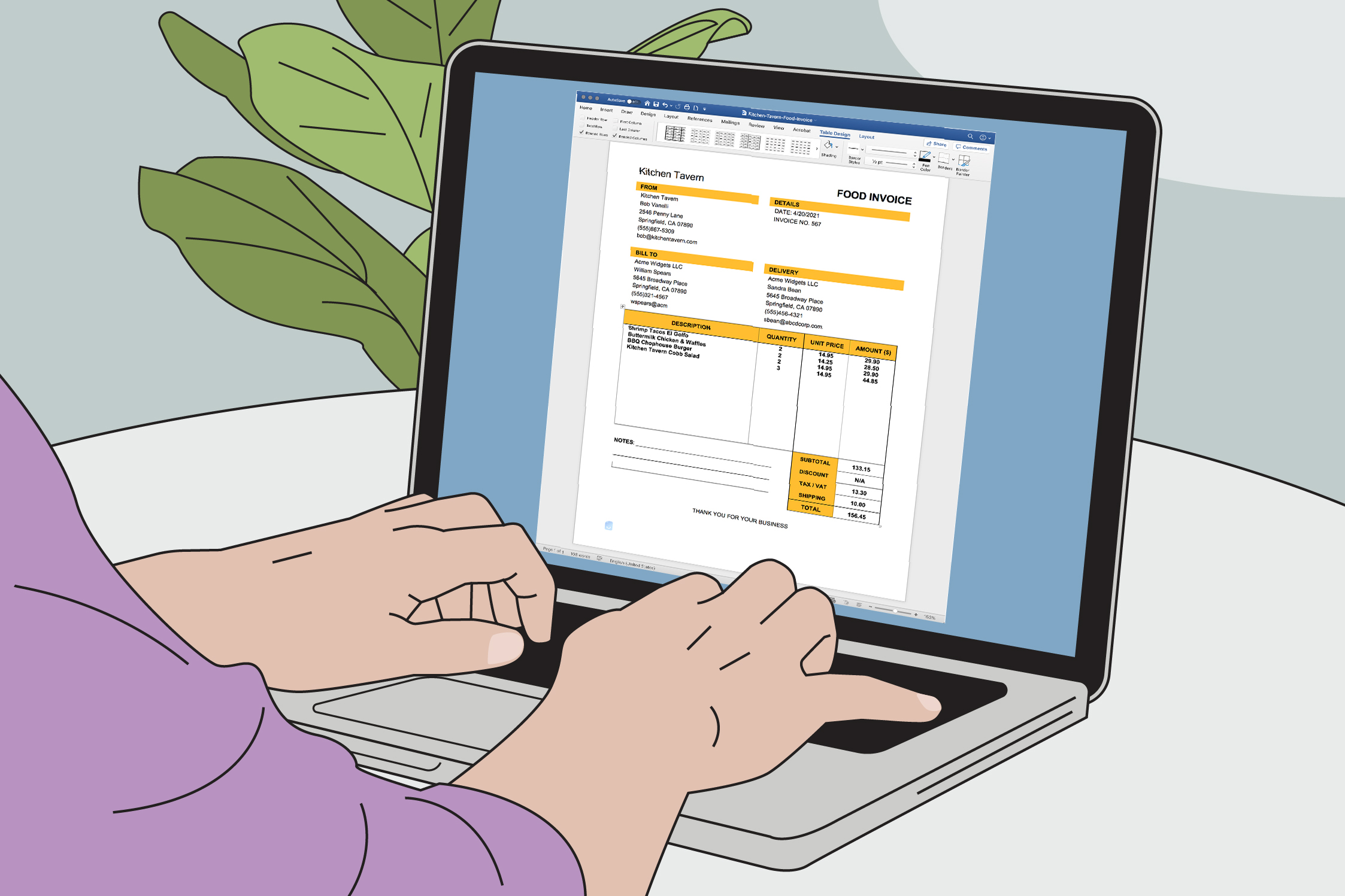 As technology advances and food delivery becomes more popular, a food invoice can be a useful document to understand. Food invoices allow a business to streamline and receipt food orders.
Steps to Creating a Food Invoice
Follow this simple guide to properly bill and collect payment for food supplied to a client. The food billing invoice can be created using a word processing program, a spreadsheet program, or invoicing software.
Step 1 – Enter Food Items
A food item can be any type of food, ranging from cooked and prepared food to produce. After completing the description, enter the cost per unit, number (#) of units, and the total cost for that item.
Step 2 – Design Invoice
Upload your company logo using a .jpg or .png file format. Enter the name and address of your business. Include the client's information, including contact information and perhaps a company name. Include such details as the date, the total amount of the invoice, and the date payment is due. Include an invoice number so the document can be easily accessed if needed. Once the invoice is formatted, it can be saved for future food invoices. Invoicing software, such as that available through Invoice Maker, can help to streamline this process.
Step 3 – Finalize and Send
Include any discounts and taxes to the amount total. Before sending, double-check that the amounts are correct. The food billing invoice can be emailed to the customer or mailed to the customer. Invoices are typically paid via credit or debit card, cash, or online.
Who Uses a Food Invoice?
Typically, food billing invoices are handled by professionals in the departments of companies that handle ordering and purchasing. A food service manager will generally approve the invoices, and accounting professionals will be responsible for following up to ensure invoices are paid. The invoices are usually sent to restaurants, retailers, and individuals who order large amounts of food.
Food Invoice FAQ
Do suppliers offer discounts for early payment of food invoices?
Some suppliers offer a small discount for invoices paid within a specific time period, such as seven (7) or ten (10) days. Generally, the discount has to be requested by the purchaser.
Is there a late payment fee for food invoices?
Generally, yes. Most suppliers offer a grace period, but if the invoice is not paid by the end of that window, late fees will begin to accrue.
What is the average cost of a food invoice?
The price of a transaction documented by a food invoice will depend on a variety of factors, most notably the type of food being purchased and the quantity.
How are disputed food invoices resolved?
In the worst case, an unpaid invoice can lead to litigation or to a purchaser's account being terminated and information being sent to a collections agency.