A food invoice allows restaurants, food delivery services, and businesses that process food to bill clients/customers after orders have been taken and delivered. The food should be listed in a line-by-line manner that lists each specific type of food ordered and the quantity. The total amount, including any taxes, should be calculated and applied when sending for payment.
What is a Food Invoice?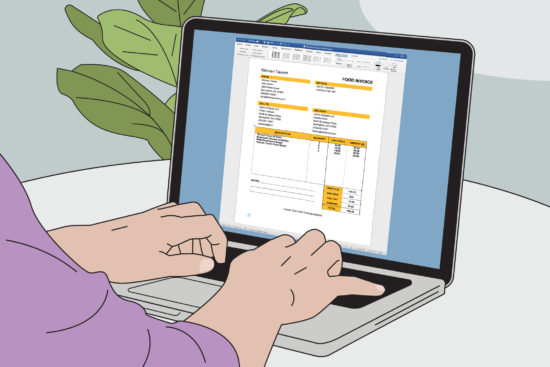 A food invoice is a billing document that can be sent to customers after food has been ordered. As food delivery becomes more popular by ordering through mobile apps and online, a food invoice allows a business to streamline food orders. Once complete, a food invoice can be exported on paper or electronically via Word, Excel, and PDF formats.
Helpful Tip: Use a Catering Service Invoice when needing a method to request payment for making and preparing foods for large events (weddings, birthday parties, corporate functions).
How to Create a Food Invoice
Follow this simple guide to properly bill and collect payment for a client that was delivered nourishments.
Step 1 – Enter Food Items
A food item can be any type of prepared food. It can be a combo meal or even just a side order of dressing. Any food item that comes with a charge needs to be listed as a description. After completing the description, enter the cost per unit, number (#) of units, and the total amount for that item.
Step 2 – Design Invoice
This is the easiest step as you will only need to perform this step once. You can save the design of your food invoice for future use, that way you will not have to create it over and over again. Upload your logo using a .jpg or .png file. Then enter the name and address of your business.
Step 3 – Finalize and Send
Finalize the total amount. Include any discounts and taxes to the amount total. Before sending, make sure the billing date, client's info, and invoice number are all correct.