An HVAC service work order is used by companies that specialize in working on heating, ventilation, and air conditioning systems to record customer requests for work to be done. After the work order has been signed and submitted, the client will be liable for payment after the work has been performed.
Table of Contents
Helpful Tips
HVAC services are complex – with the variability in installations, the components that make up the systems, and the number of things that can go wrong, having a means of recording every detail of a job is extremely important.
Technicians not only require a clear understanding of what needs to fixed/installed, but they need to have a means of detailing each labor and product cost for the customer in order to get their approval for work to begin. Digital templates are recommended as they can't be lost, they can be sent to a customer or technician at a moment's notice, and they can be easily stored for seamless record-keeping.
What to Include in the Work Order
To sufficiently document all parts of a job request, work orders need to contain a minimum of the following:
Company name, contact information, and logo (if applicable).
The order number (ordering work orders consecutively is recommended – 1002, 1003, 1004, and so on.)
Info on the client (name, customer #, contact details, whether they are residential or commercial, etc.)
A descriptive sentence or paragraph on the nature of the job request.
What materials or parts will be needed and their costs (if any).
A description of the labor and all labor costs required for the job.
The total costs of the job (labor + materials + tax).
Personal recommendations from the technician/manager.
Terms and conditions (optional), and space for the customer to sign their name.
Invoicing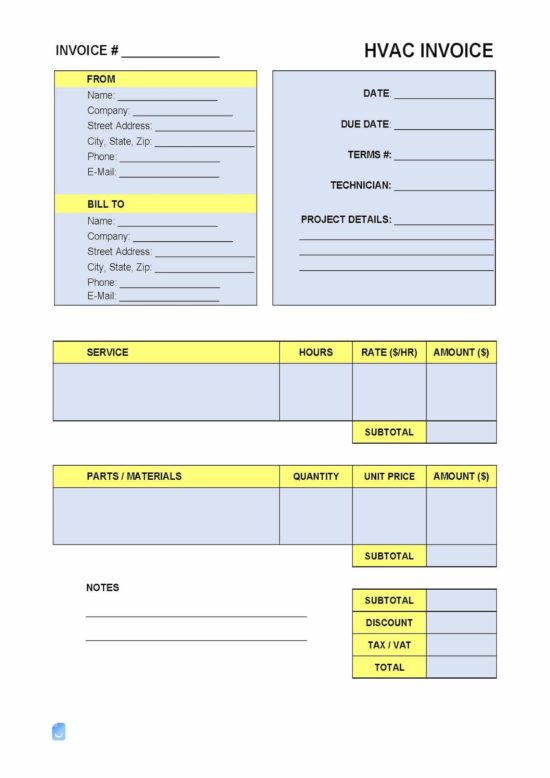 HVAC Invoice – After the service is complete the client will be billed through an invoice.
Download: Adobe PDF, MS Word, MS Excel