Everything You Need to Know About Becoming a Food Writer (Plus Tips on Starting a Food Blog)
Food writing could be your calling if you're a hungry wordsmith who loves inventing recipes and visiting new restaurants. 
Make a Free Invoice Now
A food writer develops content about — you guessed it — food. These professionals write everything from magazine features on farm-to-table eateries to culinary memoirs about their own experiences in the food and beverage industry. 
Though this career path can be pretty competitive, most food writers make a comfortable income and have the flexibility to cover topics that interest them. 
Does writing about heirloom tomatoes and the best way to smoke beef sound like something you'd enjoy? If so, keep reading to learn everything you need to become a food writer. We discuss the ins and outs of food blogging too.   
What is a Food Writer?
Food writers specialize in producing content about recipes, restaurants, and food trends.
Some of these wordsmiths write articles and restaurant reviews for food-centric publications like Cook's Illustrated and Food & Wine. Serena Maria Daniels, the founder of Tostada Magazine, is an example of a well-known food journalist.      
Other food writers work as independent bloggers, posting recipes and articles online in exchange for advertising revenue. Dana Shultz, for instance, is the writer behind Minimalist Baker. On Instagram alone, Shultz boasts more than two million followers.  
Some food writers also publish cookbooks and memoirs. Michelin-starred chef Iliana Regan, for instance, released her memoir Burn the Place in 2019. 
What Makes a Good Food Writer?
Becoming a successful food writer calls for much more than an empty stomach. Needed skills include:
The ability to write clear and compelling content;
A knack for researching recipes, restaurants, cooking trends, and more;
The ability to communicate with industry specialists;
Superb time management skills — must be able to meet tight deadlines and work under pressure;
Knowledge of the food and beverage world; and
An eye for photography, layout, and design.
A food writer must also have their finger on the pulse of the industry. Always look for new food trends, up-and-coming chefs, and unique recipes to share with readers.   
Food Writer Job Duties and Work Environment 
Food writers do more than nosh on James Beard Award-winning meals. These professionals must also:
Develop, test, and write recipes;
Research up-and-coming restaurants, food products, and food trends;
Review restaurants as a food critic;
Write blogs, articles, cookbooks, travel guides, and memoirs;
Conduct interviews with chefs, restaurants owners, and other stakeholders in the culinary world; and
Maintain social media accounts.
Exact duties vary from writer to writer. For example, a food blogger may spend more time testing and preparing recipes than a food critic who reviews restaurants. 
The work environment also varies. While most food writers work from home, some magazine and newspaper staffers work in a traditional office setting. 
Work hours can be unpredictable. Some weeks, food writers may expect to work overtime to hit tight deadlines. They may also need to work on weekends to cover food events, visit specific restaurants, or travel to meet with chefs.   
Types of Food Writing
The world of food writing is much bigger than cookbooks. Nowadays, the genre encompasses many different forms of creative nonfiction, including:
Historical accounts;
Magazine features;
Memoirs;
Nonfiction books;
Personal essays;
Restaurant reviews;
Short- and long-form blog posts;
Social media posts; and
Travel guides.
Some food writers even expand to different media, creating videos and podcasts to accompany their written content. 
How Much Do Food Writers Make?
How much money will you get paid to wax poetic about endive salad with poached pears? According to the U.S. Bureau of Labor Statistics, about $69,510 per year. 
However, remember that wages vary based on location, experience, and the type of food writing you choose to pursue. 
For instance, a freelance writer working for a small food magazine may get paid a few cents per word. Meanwhile, according to ZipRecruiter, an independent food blogger with a large following may make as much as $100,000 per year.  
How to Become a Food Writer
If you have strong opinions about the Oxford comma and well-done steak, a career in food writing could be a great fit. But how do you become a food writer? Below, we offer five steps to help get a foot in the door. 
Step 1: Earn an Undergraduate Degree
You don't need a college education to become a food writer. However, an undergraduate degree in English, creative writing, journalism, or a related field can help you stand out when applying for jobs. Coursework also helps master grammar, flow, and style.   
Step 2: Take Culinary Classes
To develop a deeper appreciation of food, consider taking culinary classes or enrolling in a culinary program. This training teaches industry-specific terminology and how to discern between, say, a properly cooked and an overcooked salmon filet. 
Step 3: Get Industry Experience
You have two choices: pursue an entry-level position at a food publication, or enter the culinary world as a prep cook or station chef. Back-of-house experience works too. Either way, expect to roll up your sleeves and work hard.  
Step 4: Build a Writing Portfolio
To get bylines in publications as a new writer, start small. If you're still in college, try writing for your university's newspaper or literary magazine. If you're out of college, try pitching topics to local newspapers and magazines. 
Step 5: Try, Try, and Try Again
The food writing industry is competitive. Don't get discouraged if you can't score a full-time writer position at a food publication. Instead, try freelancing with multiple organizations to build a portfolio. You can also create a body of work by starting a food blog (keep reading for more on this).
Why Start a Food Blog?
A food blog is a website that hosts food-related content like recipes, restaurant reviews, and instructional cooking videos. Most of these blogs focus on a culinary niche like veganism, keto, or family meal planning. 
Food-minded writers and literary-minded chefs start food blogs for all sorts of reasons. Some want a platform to express themselves, post writing samples, or document signature recipes. Others want to attract an online following to land a cookbook deal later. 
No matter the reason, a well-managed food blog can be pretty profitable. According to a study by RankIQ, some food bloggers bring in as much as $9,169 per month. 
How Do Food Bloggers Get Paid?
There are five key ways food bloggers monetize their websites.
Display Ads
Display ads are advertisements companies pay to feature on a blog. For instance, if you manage a vegan food blog, Beyond Meat may pay you to run an ad about their plant-based burgers. Earnings depend on monthly page views.
Fortunately, display advertising requires very little legwork. Simply sign up with Google AdSense and add a few lines of code to your website. Google will do the rest, matching ads to your site based on content and traffic. 
Direct Advertising
If you're the self-motivated type, you can skip third-party ad servers and sell advertising space directly to companies. Just keep in mind that nurturing relationships with like-minded businesses will require significantly more time, effort, and finesse. 
The advantage is that you won't have to pay for an ad network. You'll also have more control over rates and partners.
Affiliate Marketing
Try affiliate marketing if you're not keen on plastering your food blog with ads. Affiliate marketing promotes a company's product on a blog using an affiliate link. If a blog reader follows the link and makes a purchase, the blog receives a percentage of the profit. 
Amazon offers a reasonably robust affiliate marketing program. Many food delivery services, including HelloFresh, also provide an affiliate program.  
Sell Products and Services
Many food bloggers use their websites to sell products like cookbooks, online courses, and even cooking utensils and dishware. Recipe apps are relatively popular too.  
You can also use a blog to sell services. For example, if you specialize in keto cooking, you may offer virtual coaching sessions providing advice on transitioning to a low-carb diet. Or, if you're a private chef, you may sell package deals like a romantic dinner for two.
Sponsored Posts and Brand Deals 
Another popular way food bloggers make money is through sponsored posts. With a sponsored post, a company will pay a blogger (either in cash or free stuff) to feature their product in a blog article. For example, SmartSweets may pay a famous diabetes food blogger to mention their products in a post about low-sugar candy. 
Sponsored posts are usually a one-time arrangement. However, they can turn into ongoing partnerships. These are called brand deals.
How to Start a Food Blog
If you want to get paid to write long-form articles about grandma's chocolate cake recipe, food blogging could be for you. But how to start? Below, we offer seven easy steps to get a food blog off the ground.
Step 1: Find a Niche   
With more than 600 million blogs on the internet, you need something that will stand out from the rest. That "something" is a niche. 
A niche is a specific nuance that is the blog's proper focus. Food blog niches range from dorm room fare to traditional Korean recipes to vegan BBQ. The key is to pick a topic that inspires passion. After all, you'll be writing thousands of words of content solely on this subject.   
Step 2: Brainstorm the Brand 
In addition to a niche, you need to determine a brand identity. Brand identity includes the blog's name, tagline, and logo. It's also reflected in how you speak (or, in this case, how you write).
Do you want the blog to be quick-witted and a smidge sassy? Or do you prefer a more approachable, down-to-earth ethos? Will you use informal language like "y'all" and "gotta", or stick with professional-sounding prose?
These questions may seem like they're splitting hairs, but branding truly matters. According to a study conducted by Marq, brand consistency can boost profits by 10 to 20%.
Step 3: Secure a Domain 
After nailing down the brand, the next step is to secure a domain name. A domain name is text you type into the search bar to get to a website — for example, google.com.
Anyone can purchase domain names through various websites like Squarespace and Mailchimp. Typically, domains cost $10 to $20 per year. 
Step 4: Find a Web Host  
Web hosts are servers that store websites — domain names, HTML codes, text, image files, and so on. Popular web hosts include Bluehost and GoDaddy.
The cost of web hosting varies. However, most bloggers can expect to pay between $5 and $50 per month.
Step 5: Design the Blog   
You can hire a web designer to help with this step, but if you're working with a shoestring budget, it's possible to easily design it yourself. Many web hosts offer free templates with user-friendly drag-and-drop interfaces. 
Just keep in mind that visual identity is significant. You only have 15 seconds to make a good impression before users click away.  
Step 6: Create and Post Content 
Now, it's time to start developing and sharing content. Relevant content includes recipes, personal essays, restaurant and product reviews, and how-to videos, to name a few. 
Some pointers to keep in mind:
Post regularly. According to Rock Content, two to four times per week is best. 
Use long-form content. Short, quippy blog posts work just fine. But according to BuzzSumo, 3,000- to 10,000-word pieces get the most average shares.
Do keyword research. Keywords help search engines (and, therefore, readers) find a blog. Be sure to research which keywords are most relevant to your content. 
Provide value. To rank higher in Google search results, you need to post blog articles that provide value to readers. Google can tell the difference between low- and high-quality content.     
Step 7: Promote and Monetize the Blog
To drive traffic, you need to promote the blog. Do this through social media and email marketing. Guest blogging for a well-known food blog is another way to get your name out there.  
Once you attract a loyal following, begin monetizing the blog through display ads, direct ad sales, affiliate marketing, or sponsored posts. You can also sell products like cookbooks and services like online coaching. 
Should You Pursue Food Writing?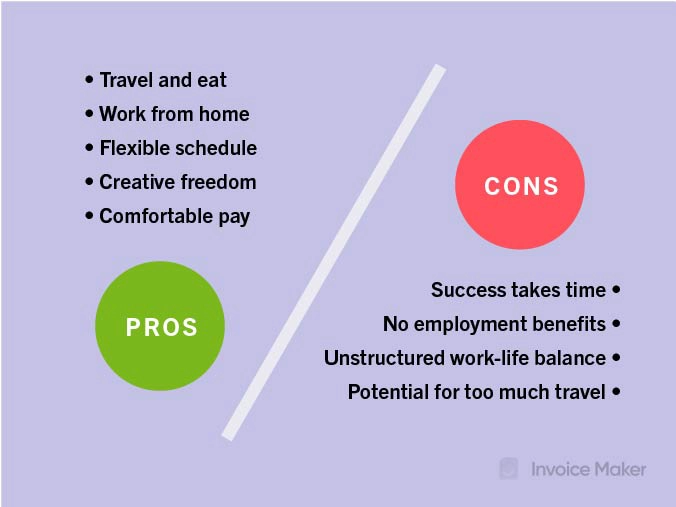 Food writing is a unique field that brings a lot to the table, with delicious food as the main course. But is the career right for you? Before you ditch your day job and dive headfirst into food writing, consider the following pros and cons: 
Pros  
Comfortable pay with experience;
Work from home;
Manage your schedule;
Opportunities to travel and try new food;
Freedom of creative expression; and
Flexibility — there are many different avenues to pursue.
Cons
Getting a foot in the door can be difficult;
Some food bloggers don't see revenue for years;
No health insurance or retirement benefits (for freelancers);
Expectations to hit tight deadlines; and
Possible extensive travel, spending long periods away from loved ones.
Food writing can be stressful and requires long hours and extensive travel. To make it in this industry, roll your sleeves up and get to work.
Food Writer FAQs
What is a food writer?
A food writer is a professional who specializes in writing about recipes, restaurants, and food trends. 
Do you need a degree to become a food writer?
No. A college education isn't technically required to become a food writer. However, a bachelor's degree in English, creative writing, journalism, or another related field can give you a leg up. Culinary classes help too. 
How much does a food writer make?
That depends. However, according to the BLS, most food writers make about $69,510 annually.  
Is food blogging worth it?
Yes. Though the field is pretty saturated, high-earning food bloggers can make up to six figures.