Creating a Killer Business Plan Cover Page
There are a thousand things to consider when creating a business plan, from cash flow projections and competitive analyses to marketing plans. Because a business plan is the foundational text of a business, creating one takes both umbrella and granular thinking presented in a digestible and appealing format.
Make a Free Invoice Now
One of the most impactful elements of a plan is the one easiest to disregard: the cover page. A killer cover page elevates a pitch and defines a company's aesthetic. A substandard cover page insinuates laziness and a possible lack of creativity.
Would a cover page benefit your business plan? Let's find out.
What is a Cover Page for a Business Plan?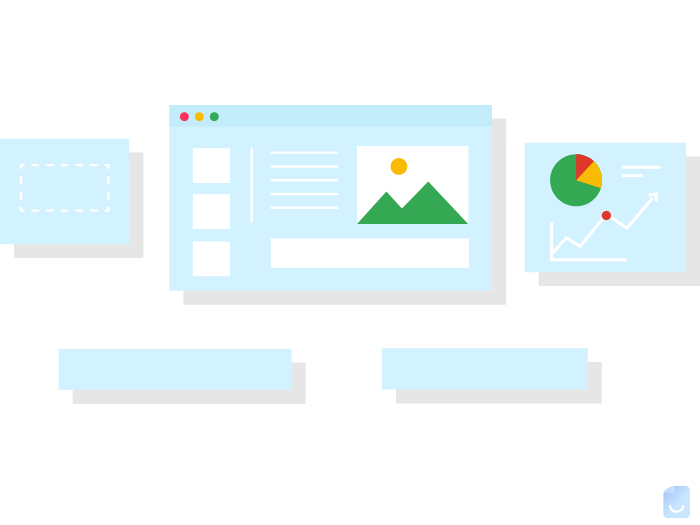 Just like the cover of a book or magazine, a business plan cover page is the face of the document—its first impression. To succeed, it needs to incite enough curiosity in the reader to take the next step by opening the cover page and reading the plan. 
A cover page also functions as an introduction to what the business plan contains. The entire cover page should be as simple and streamlined as possible while relaying the necessary information. Use a clean and uncluttered design with an easy-to-read and visually appealing font. Think like an investor: consider what kind of cover page would make you want to read a business plan and design accordingly.
What to Include on a Business Plan Cover Page
Think of a cover page like a large and slightly expanded business card: use the space to relay vital information about your business succinctly. While there are no hard-and-fast rules about what goes into a cover page, always include the following details at a minimum:
Title
Creation date
Company name
Logo
Headquarters/primary address
Contact information
Your name
Business partners' names (if any)
Consider including a creative element to grab attention, like a tagline or motto (think of Nike's Just Do It and other iconic catchphrases).
The most important elements of your cover letter include the following: 
Company Information 
Include all identifying information about the company: name, headquarters address, and contact information. Your name and title, and those of partners or significant stakeholders, should make the cover page too. The business name should be the page's most prominent, bold text. Bold it, center it, and let it stand out from across a table.  
Don't forget the month and year you created the business plan. Also, consider including the business's date of incorporation (this conveys longevity and expertise). 
Company Logo 
Utilize visual memory to your advantage – it helps people remember what your business is and does. If you don't already have a company logo, this is the time to enlist the services of a graphic designer to create one. It needs to be clean, bold, and high-resolution (because nothing says "I made this in my basement" like visible pixelation).
Spend a little time perusing the most iconic company logos to understand what images do and don't succeed. Remember, a logo is a brand identity. There are very few circumstances in which it makes sense to change a logo after it's been created and marketed, so design wisely. 
Effective Date 
This one's pretty obvious, but it's worth noting that if you love a cover page, you can use it repeatedly. The completion date, or effective date, is the year and month you finalized or updated the plan. It's important to periodically review and revise the plan as your business evolves.
Confidentiality Statement
A confidentiality statement is a legally binding agreement confirming that anyone who attempts to steal ideas or information from your business plan can be held legally liable. The cover page is arguably the most impactful place to put it. If the statement is too long to include on the cover page, insert it elsewhere in the business plan but add a note on the cover page referring to its existence and location in the document. 
A confidentiality statement should include the consequences of the breach, effective date, parties involved, termination date, terms and conditions, and a notice that any reader of the document assumes liability under the confidentiality statement.
What Should a Business Plan Cover Page Look Like?
The short answer is that it should look good. What does "good" mean, though? "Bold," "sleek," "eye-catching," and "attractive" are subjective assessments, so let's unpack what makes a cover page earn these superlatives. A cover page is, first and foremost, a business document, not an art project, but it still needs to grab attention. Use design elements judiciously, and avoid clutter at all costs.
Here are some excellent starting ideas:
Bright colors (used sparingly)
Sans serif fonts give off "disruptor startup" vibes
Serif fonts connote classic venerability
Text that is large enough to read easily
White backgrounds with black text
Formatting
The following three formatting suggestions will make your cover page extremely user-friendly:
Always center titles, not just as a matter of convention but as a way to compliment how the human eye tracks text as it reads.
Center alignment is not ideal for paragraph text because the reader's eye naturally wants to move from left to right. It can, in some circumstances, be beneficial for headline text because it makes the reader slow down and take note. 
Anything you want your audience to read in full (like a confidentiality statement) should be left-justified, and make sure the text color has sufficient contrast with the background color.
Branding
Due to the concise format, every cover page element must align with the business's brand identity. Fonts, colors, structure, and voice must reflect the brand's overall aesthetic. For example, hot pink Times New Roman text may not be the most fitting choice for an offroad-vehicle mechanic.
Design Tools and Templates
There are some great design tools and templates out there to help you create your business plan cover page, whether you're highly design adept or you just want to drag and drop into something that looks good. Check out these well-loved favorites that can help you make a cover page that you're proud to put your name on. 
LivePlan
LivePlan consistently makes the top of best-in-class software lists, and for good reason. For subscription pricing starting at $15 per month (or $20 per month for a pay-as-you-go plan), you get over 500 template options that are geared toward specific industries. Every template is customizable, and your subscription comes with lots of video tutorials, instructions, and excellent customer support. You can cancel your plan anytime you want, and there's even a money-back guarantee for 60 days. 
On LivePlan, you can create as many business plans as you want (a great feature if you have several ideas for how to present your business, or if you have multiple side hustles). 
Cuttles
Cuttles is a super simple option for plan design. The software takes you from idea to pitch deck and business plan one step at a time. The incredibly user-friendly process incorporates everything you want to include in your business plan into a custom design using your company's visual branding and logo. Pricing is in Euros (Cuttles is a Danish company) and starts at €8 per month. 
Canva
Canva is great for folks who want a little more control over the design aspects of their business plan cover page, but don't want to start from scratch. Using a huge library of template options or creating from a blank page with Canva's design tools is a breeze, even if graphic design isn't your wheelhouse. Pricing is split between a (very serviceable) free tier and the $120 annually Pro tier. 
Venngage
Venngage facilitates visual media creation, and it can work really well for designing your cover page. Similar to Canva, but with more infographics options, Venngage is a good choice if you want to use a lot of charts, graphs, or diagrams. Pricing starts at a free tier (which is pretty limited) and then goes up to $16 monthly for the Premium tier, which has all the features you need to design a business plan and cover page. 
Business Plan Cover Page Examples
With a cover page, you're constantly balancing visual appeal and function. Check out some of these sample cover page templates from Upmetrics that hit both nails on the head.
 Notice the details that make these templates successful: eye-grabbing colors, color gradients, and clean and consistent font choices. Other options are a bit more whimsical but still visually pleasing. A successful design template can be much better than a plain white page without overwhelming the reader.  
A Cover Page Worthy of Your Business
A business plan cover page isn't just an afterthought. It's the first (and potentially only) opportunity to convey the creativity, thoroughness, and excitement contained inside. Give your business plan the most substantial chance for success by knocking the cover page out of the park.